DUNAG-02 suit is an orthotic device, which is designed to treat children with neuromuscular disorders.
Our suit therapy helps in aligning the children's body by distributing the vertical weight across the entire body. This therapy helps in facilitating proper movement and diminishing undesired reflexes in the children.
Our Suit Therapy Intensive Therapy Program
Hope AMC is best known to meet the individual needs of every child. We take special care and attention of every child who joins our Suit Therapy intensive program.
We provide suit therapy for longer sessions (approx. 3-4 hours) for five days a week. This program duration is for 3-4 weeks. However, the duration of the program changes depending on the needs of the child.
Our program is suitable for children of any age. However, we modify the duration of this therapy for children below one year.
During the first day of our program, we evaluate the child and accordingly prepare a plan based on the observations as per the goals of the parents.
This is a polish therapy, during which we use extensive kits like the DUNAG-02 suit, which helps in correcting the posture and strengthens specific muscle groups.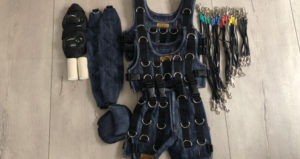 The suit not only helps in correcting the posture but also sends strong messages from the central nervous system to the brain. This back and forth signals to the brain helps in increasing motor planning.
Benefits of Our Suit Therapy
Re-train the Central Nervous System
Our suit therapy re-trains the nervous system and helps it send to and fro signals to the brain. This action allows the motor skills to be improved.
Supports Weak Muscles
This suit therapy helps in building further resistance for the strong muscles while supporting the weak muscles as well to grow. The weak muscles will be continuously trained during the therapy.
Dynamic Correction
Our suit therapy also helps in reinforcing proper movements like balance, walking, and coordination.
Alignment
The suit helps in bringing proper alignment for the body by balancing the entire weight vertically over the body (near the hip joint). By the end of our polish therapy children will be able to get a proper body alignment.
Increased Awareness
The suit has compression over certain areas of the body, which helps in bringing intensive awareness. This stimulated is spread across the body for better and faster results.
Motor Skills
The to and fro signals from the central nervous system to the brain helps in increased motor skills.
Improvement in Speech
The fluency and speech control will be tremendously improved with the help of this suit therapy. This is achieved through the trunk and head support.
Proper Movement
After this polish therapy course, children can observe control in their movements. This prevents contracture.
This therapy model can be applied in both intensive as well as ongoing therapy model.