While having a meal, many parents experience mealtime struggles with their children. They are concerned about their child's food choice and texture refusal. If you are also facing this issue, you are not alone!
If your child doesn't have any disability, mealtime with kids can still be stressful. From unusual behaviors to picky eating, swallowing safely to restricted diets, feeding kids may be struggling for both parents and the child. If you are worried about your child's health, then better opt forfeeding therapy!
Now you might be wonderingwhat feeding therapy is? Does your child need it? If yes, how to make your child get this therapy?
Don't worry; we have answers to all your queries! Check out the information below to reduce the stress of your kid's mealtime and make it a happy hour!
What is Feeding Therapy?
Feeding therapy is made for those infants and children who have trouble eating, chewing, feeding, sucking and swallowing. With this therapy, your child can grow better once he addresses all his feeding habits. The earlier a child is in food therapy, the better you will see the future eating outcomes.
Moreover, feeding therapy is more than just teaching children to eat appropriately. The primary purpose of this therapy is to help kids develop effective feeding behaviors and patterns. Feeding therapists work closely with the families and their kids to determine the difficulties in feeding. Knowing all the complex sources makes the kid's eating process more enjoyable by developing personalized, strategic, and specific therapies.
If you address any underlying issues in your child early, then with the feeding therapy, you can have positive benefits by overcoming the mealtime stress for years down the road.
If your child is a severely picky eater and refuses to eat during mealtime or has difficulty swallowing, they can benefit from feeding therapy.
There are several reasons behind abnormal eating behaviors, and refusal of eating such as choking while eating is associated with a neurological diagnosis. No matter what makes your mealtime struggling, a feeding therapist can help you ease the stress on the family and, most importantly, on your child.
Depending on the underlying issues, feeding therapy generally takes place twice a week for approximately an hour. Your baby's therapist will address the feeding issues that prevent your kid from eating an age-appropriate meal. Once all the issues are addressed, the therapist will make plans and strategies accordingly.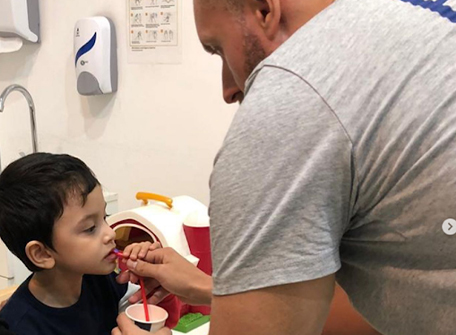 Why and When Should I Refer My Child for Feeding Therapy?
Mealtime is great for making happy bonding and enjoying new experiences with your child. But unfortunately, not all children can make the most of this time because, for some kids, it is a stressful and challenging time. If your kid is experiencing the following behavior, your child needs a proper feeding evaluation.
Not being able to chew food properly or swallowing food in full pieces.
Not swallowing food or refusing to keep any food consistency in the mouth.
Doesn't eat specific food texture or face difficulty transitioning from one to another texture, for example, from feeder bottles to mashed food, from mashed foods to textured foods or soft solid.
Shows sensitivity to food temperatures, flavors or textures.
Gets irritated with feeding.
Starts coughing while eating.
Chokes or gags when eating.
Rarely tries or refuses new food.
Push away the plate or bowl of a meal.
Struggles to move food inside the mouth, chewing and swallowing food.
Vomits during or soon after eating or drinking.
Faces difficult transitioning from gastric tube to oral feedings.
Behaves negatively during mealtime, such as crying, screaming, refusing to eat, or pulling away from food.
Taking longer than 30 to 40 minutes to finish the meal.
Known to be a picky eater who eats a limited range of food.
How to Get Feeding Therapy?
Now at this point, you have a clear idea of whether you should consider feeding therapy for your child or not. But let's look at some options!
First things first, it is always a good idea to ask your pediatrician before going ahead with feeding therapy. Secondly, it is essential to know that you might not need a recommendation from a doctor to proceed with feeding therapy in many cases.
If your doctor doesn't give you any suggestions regarding feeding therapy for your child, then you have the following options to explore on your own:
Private Clinic: These are the smaller places yet a better location. Many private clinics are specialized in specific treatments that might appeal to you.
Clinic or hospital: Many hospitals for kids offer feeding therapy.
Early intervention: Early intervention usually takes place at home if your children are under age 5.
School: This is a much rarer option, but if you have got your child's admission to a school for special needs, then the feeding therapy will be covered in that school.
Benefits of Feeding Therapy
Let's have a look at the top benefits of feeding therapy!
● Improves Health and Helps Grow Children
Children who suffer from feeding and eating disorders often have difficulty maintaining a healthy weight and height of their age. Parents need to ask the pediatrician to sort out any medical conditions causing their child to struggle with growing and gaining weight.
Once everything is solved, feeding therapy is a great way to improve nutrition and food intake while promoting health and growth.
● Increases Food Varieties
If your little one shows interest in any specific food and refuses to eat other varieties of food, then feeding therapy may help them accept various food in their diet. For instance, if your child likes to eat only waffles or chicken nuggets and you want him to eat some veggie food, then you can change his habit with food therapy.
A feeding therapist will help your child become more flexible and increase the appetite for other food varieties while enjoying the whole meal.
● Less Stressful and More Enjoyable Mealtime
Mealtime can be stressful to many kids, especially if the toddler struggles with eating food you put before them. Feeding therapy helps you make your child's mealtime more pleasant and peaceful. Your therapist will establish a specific routine to work on helping your child develop skills for peaceful eating.
● Helps Kids Play with Food
Feeding therapy encourages kids to play with food, discovering new tastes and textures. The therapy helps improve the sensory responses of toddlers to unfamiliar sensations, making them more comfortable with new tastes. A food therapist will teach your little kiddo to play with food while eating entertainingly.
● Establishes Healthy Eating Habits
Some children have irritated interaction with food, making them start creating negative associations with feeding. This habit can last for years, but with the right feeding therapy, you can provide your kid with the right tools to have a positive relationship with the meal.
Wrapping Up
Feeding therapy undoubtedly is an excellent option for both parents and children. Its main goal is to make your little ones develop appropriate eating behaviors while helping them enjoy their food time. In many cases, feeding therapy is helpful for those children who stop growing and gaining weight as they should for their age due to less eating.

Note: Frequency and length of feeding therapy may vary depending on the specific needs of every child. Food therapists work with your child; in addition, it is the responsibility of parents and caregivers to ensure the child gets the appropriate amount of therapy to improve feeding habits without getting overwhelmed.

We provide highly effective feeding therapy for children at Hope AMC. We have a professional team of feeding therapists that will work with your kid to overcome any deficits or challenges. Our therapists recommend an appropriate Feeding Therapy plan after assessing the child's condition and other factors such as age, cognitive and physical abilities, and specific issues. For more information, you can schedule an appointment.

|