Orthopedic surgeryis not always the first choice for treatment; however, it is a possible intervention to recover children with cerebral palsy. Doctors recommend their patients choose lower-risk options first, such as medication and different physical therapies. If these options do not help and work well enough, surgery is only the viable option left for treatment.
Surgery can assist with several issues, such as reducing muscle stiffness spasms, relieving pain, improving damaged joints, posture, balance, and more. It is also used to improve co-existing conditions like hearing and vision loss. With many benefits, surgery also comes with some associated risks, but the potential benefits can overcome those risks.
●      Ambulatory Children
Ambulatory children with cerebral palsy tend to step on their toes, bend their knees and cross their hips while trying to walk. These issues are caused by weakness, tight muscles or misalignment of bones or joints.
The goal of orthopedic surgery is to help those children improve their walking capability, which is equal to improving self-reliance. For instance, a child who can walk on his toes can correct his stride with a tendon lengthening or tenotomy procedure. Orthopedic surgery also improves the poor shape of the hips or knees.
●      Non-Ambulatory Children
Non-ambulatory children are dependent on others as they are unable to work. Due to this reason, they rely on orthopedic surgery as it is significant to increase comfort and avoid mobility complications. This surgery also helps reduce the chance of complications getting worse. It corrects spinal curvature, aligns sitting position, dislocation of hip alleviates pain, and promotes comfortability. Osteotomy also fuses spine bone to correct severe scoliosis.
It is to note that orthopedic surgery doesn't provide instant benefits. Instead, children will require physical therapy as well to recover successfully and keep their muscles flexible and strong.
In cerebral palsy cases, usually, surgery is not the first form of treatment. Instead, treatment involves a combination of interventions such as orthotic devices, therapies, drug interventions, assistive technologies, adaptive equipment, alternative therapies or caution complementary. However,orthopedic surgery can only correct the physical mobility but not the brain injury that causes cerebral palsy.
Surgery for Cerebral Palsy
Sometimes, it is warranted about the health conditions or impairment results during treatment. The treatment aims to help cerebral palsy children achieve an ideal level of functioning, ambulation, and appearance.
How Orthopedic Surgery Can Help Cerebral Palsy Children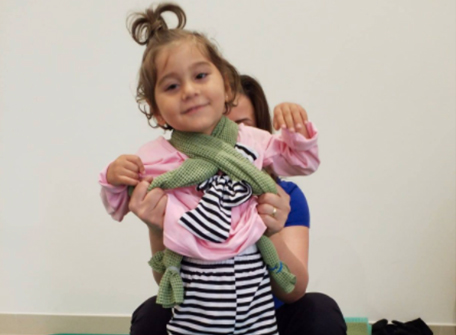 After treatment, surgery is the only option available to help cerebral palsy children. Surgery ensures healthy growth and improves mobility. Doctors also recommend opting for physical therapy and medications in these cases, mainly before surgery.
Operations are performed on the tendons, nerves, bones and muscles to correct and improve the ankles, wrists, arms, feet, legs and hips. Surgery aims to give all children with cerebral palsy an excellent chance of living independently. Orthopedic surgery is used for the following:
Reduce tremors
Relieve stiff muscles
Correct spinal curvatures
Correct joints and tendons
Correct foot deformities
Improves and support posture
Relieve pain
Reduce spinal deformities
Prevent hip dislocation
Tighten the muscles permanently
Improve balance and coordination
Treat co-occurring conditions
 Orthopedic Surgery
Orthopedic surgery is a type of surgery that improves mobility. This procedure is beneficial for treating jerky, spasticity and exaggerated movements. Doctors often recommend orthopedic surgery if the previous treatments and medications have remained unsuccessful in treating cerebral palsy conditions. This surgery also prevents future complexities such as hip dislocations and contractures.
If you notice signs of joint dislocation, rotational abnormalities, and pain while your child is wearing shoes or clothes, in that case, your child may need orthopedic surgery to improve the condition and comfortability.
Types of Orthopedic Surgery for Cerebral Palsy Children
Following are the six different types of orthopedic surgery; each one contains its benefits.
● Muscle Lengthening
In this orthopedic surgery, the patient's muscles are lengthened to reduce contractures and correct mobility skills. Surgery relieves tightness in hands, fingers, arm muscles at an extreme level to allow a fine grasp on objects. Heel cords and hamstrings are also joint locations for operating muscle lengthening. This surgery prevents future complications of muscles in the long run.
● Tendon Lengthening
Tendon surgery is similar to muscle lengthening and is performed to help a person walk or sit appropriately by improving contractures. While this surgery is beneficial, some doctors are becoming more concerned because, according to new evidence, there are some long-term side effects associated with this surgery. But still, it is popular for being slightly invasive.
● Tendon Transfer
In Cerebral palsy conditions, muscles become more constricted and pulled towards only one direction. It is a common symptom; children with this condition can quickly notice their feet in an inward position. A tendon is cut and transferred in this surgical procedure to improve the extension and alignment of muscles. This surgery is associated with a tendon in the deformed muscle and helps patients get rid of pain when walking.
● Osteotomy
This type of orthopedic surgery makes improvements in joints. During the procedure, bones are realigned to improve patient posture and movement. This results in great independence and mobility and less pain from joints.
● Arthrodesis
People who experience severe muscle spasticity need arthrodesis surgery. In this surgery, surgeons remove the damaged cartilage and shape the bone by fusing bones permanently into a rigid position. This causes the lost motion in the affected area but improves a person's ability by reducing pain when walking.
● Tenotomy or Myotomy
Tenotomy refers to the cutting of the tendon, while myotomy refers to the cutting of muscle. This surgery increases fine motor skills muscle function and assists a person in regaining control of upper limbs. For people who risk hip complications of fractures, this surgery is a good option.
● Scoliosis Repair
Some kids, especially those who are ambulatory, develop spinal curvature that worsens over time. This issue can be repaired surgically to improve posture mobility and prevent respiratory problems.
Wrapping Up
It would be best to ask for doctors' recommendations to determine which type of surgery is available, which one is beneficial, and when is the right time to get it for your cerebral palsy child. With the right and proper consideration, orthopedic surgery for cerebral palsy can give your children an opportunity to change their entire life!

Hope AMC is one of Dubai's most prestigious paediatric rehabilitation center. In our clinics, we have world-class therapists and doctors. We thoroughly analyse each child's condition and provide treatment tailored to their specific needs. For children with Cerebral Plasy and other neurological problems, our thepasits provide a variety of orthopaedic surgeries.

Consult our top therapists today.

|