Many parents detect that something isn't quite right with their child's feeding throughout a child's early development, but they ignore their instinct and dismiss it as "normal behavior." While each child is unique and develops at their own pace, there are some fundamental feeding development guidelines that all children should follow.
To ensure you are on the right path, we've prepared some information to help parents understand how feeding therapy might help their children start eating healthy.
What Is Feeding Therapy?
Feeding therapy is used to help babies and youngsters who have difficulty consuming food or who have a small appetite.
Feeding therapy aims to help children develop normal and successful feeding patterns behaviors while making the whole mealtimes enjoyable for the entire family. The sooner a kid enters therapy to resolve these issues, the better their development, health, and future eating results will be.
This Therapy is not just for parents but for families; food therapists, physiotherapists, psychologists, nutritionists, and surgeons may be engaged in feeding therapy. Feeding therapy employs many tactics and approaches.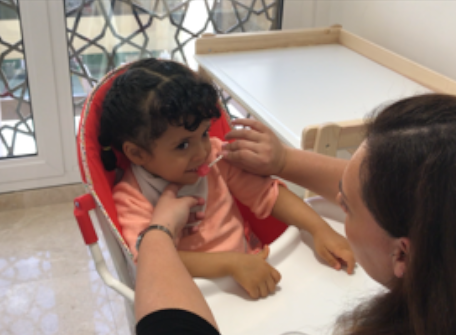 Moreover, feeding therapy can be a good option for choosy eaters or kids who do not have a safe and efficacious swallow. It may be advantageous for patients who are not improving their variety and interaction with foods and those who are not using utensils. Also, Feeding therapy may aid people with feeding tubes, oral or pharyngeal phase dysphagia, or limited diets.
How Does Feeding Therapy Work?
The feeding team's primary priority is to ensure that the mealtime setting is comfortable and friendly. Once kids can sustain a controlled state, the team may handle practical mealtime skills like cup drinking, oral motor skills, and tolerance of non-preferred foods through scaled regular training and modeling.
Long-term aims include increasing food intake and diet variety to boost diet and health. Eventually, the aim is for each kid to eat a vast number of foods, consume a well-balanced and healthful diet, and generalize these abilities to other situations.
Feeding therapy data emphasizes practical mealtime skills, oral motor abilities, participation, and food consumption in the categories of fruits, vegetables and proteins. Establishing feeding objectives starts with the parent's and therapists' involvement upon admission. The purpose of household cooking is for children to engage in a pleasant mealtime setting.
For optimal outcomes, therapists can employ integrated approaches to include treatments from many specialties and research-based practice models. Based on the patient's needs, the therapist may work on fork piercing and promote social engagement through interaction with others during mealtimes. For children who are extremely averse to non-preferred meals, the therapy team would work with the kid on progressive exposure through stimulating play patterns, eventually progressing to ingestion.
How Do I Know My Child Needs Feeding Therapy?
Feeding Therapy benefits children and families who are experiencing feeding or swallowing challenges. They work with their experienced team to address the following issues:
● Concerns about development
● Unhealthy eating habits
● Difficulty Gaining Weight
● Difficulty chewing or swallowing
● Food aversion or refusal
● While eating, they may experience choking, gagging, coughing, and vomiting
● Recurring lung infections, such as coughs or pneumonia
Feeding therapists also identify ways to encourage tube-fed children or have had an initial tube placement to feed them.
What Happens In a Feeding Therapy Session?
If feeding therapy is suggested, the therapist will collaborate with the child and family to create a specific treatment plan. The following are some examples of areas where assistance may be necessary:
● Making the mouth muscles stronger, including the jaw, lips, and tongue
●Giving sensory input to raise awareness or reduce sensitivity around the mouth
● Strengthening core muscles that enable appropriate feeding placement improving enjoyment of various foods and drinks
●  Improving chewing for a range of textures and increasing tongue movement to manage food inside the mouth cavity properly.
● Strengthening self-feeding skills
If your child has a feeding problem, they may have a feeding disorder and may require the aid and training of a feeding therapist.
Benefits of Feeding Therapy
Feeding therapy is more than simply teaching a youngster how to eat. A therapist will develop a relationship with your child while determining the root cause of the problem. Following that, they would design a customized treatment plan that includes a variety of approaches to address the underlying reason. Moreover, they will also help your child to develop new skills that will make feeding time more joyful.
The area of concentration will be determined mainly by the patient's needs. However, some of the skills that your kid will master throughout eating therapy sessions are listed below:
● Increased Oral Mobility and Strength
Allergies, growth retardation, and ailments can all have an impact on a child's ability to consume. In these circumstances, the therapists will assist your child in learning how to chew, drink, suck, and ingest. Increasing a child's oral strength and mobility is the most effective strategy to accomplish your feeding goals. The training is enjoyable and exciting, which aids in the development of the youngsters.
●Boosting the Feeding Process
When your kid is struggling, it's pretty natural to develop a bad attitude. If their circumstances have caused them to struggle with meals, they may develop poor behavior toward the meals. The therapist, in these circumstances, concentrates on generating pleasant feeding experiences.
Making positive connections with foods helps to enhance the overall feeding habit. Feeding Therapy assists children in developing self-feeding skills, which develops a sense of accomplishment. They can learn to sip from a cup, eat with a spoon, and suck through a straw. Mastering these new skills allows the youngster to begin loving their meals.
● Food Attraction
Another skill children learn slowly is they want to increase the variety and quantity of things they eat. Children who are facing developmental problems, sickness, sensory intolerance, or sensitivities may experience discomfort when eating new foods. In these circumstances, feeding therapists will focus on expanding their meal options.
As a consequence, they can eat more nutritious and well-balanced meals. If the child has sensory aversion, feeding therapists progressively expand their access to other foods by teaching how to minimize food sensitivity.
What Techniques Are Taught in Feeding Therapy?
Therapists work with children to teach them the skills they need to make meals more joyful. Feeding treatment abilities vary from child to child and are always focused on the child's needs.
Your therapist will collaborate with the child and the entire family to ensure that the child receives an appropriate amount of therapy to improve on their own without feeling stressed. There is no defined time frame for seeing the effects of feeding treatment as some children require only a few weeks and others require months or more.
Summing Up
Mealtimes do not have to be a source of contention in your home, and you can develop various feeding techniques to assist your youngster. Like you can offer them colorful delicacies, chop their food into various shapes, or even come up with creative names for their foods.
All up to Your Creativity!
We at Hope AMC offer best quality feeding therapy programs for children. All of our feeding therapists have extensive training and experience. We can help your child overcome feeding disorder and make mealtime enjoyable for all with oral-motor treatment, utmost care, and specialized sensory.

Our therapists recommend an appropriate Feeding Therapy plan after assessing the child's condition and other factors such as age, cognitive and physical abilities, and specific issues.

Schedule an appointment with our therapists today.

|